This is the time of year that most nurseries put their annuals on sale. Sometimes you can pick up some incredible bargains, but by now, most of your flower pots and planters may already be in use. Here are a couple of fun, easy, and inexpensive ideas for transforming some of your flea market finds into clever planters.
I found this pretty old silverplate chafing dish for $1.00 at a local flea market. While it would certainly serve its original purpose, I decided that it would be more fun and practical to repurpose it.
Silver Chafing Dish Planter
To begin the project, remove the bowl and turn it upside down on a towel. Using a large nail and a hammer, punch holes in the bottom of the bowl. You could also use a drill with a bit for metal to make the holes.

| | |
| --- | --- |
| | |
| Once the holes are in place, return the bowl to its normal place above the water reservoir. This will serve as a "saucer" to hold water that drains from the plant. | |
Now for the fun part! Fill with potting soil and the flowers or plants of your choice.
And now for the lid! Just add a plate hanger. The lid will be a clever and unusual accent to any wall, indoors or out!
And here's another idea. This one's even easier. Just fill an old colander with potting soil and plants. The colander makes a great planter because it already has plenty of drainage holes! You'll want to place it in another container to catch excess water. I used yet another flea market find, and old enamelware bowl.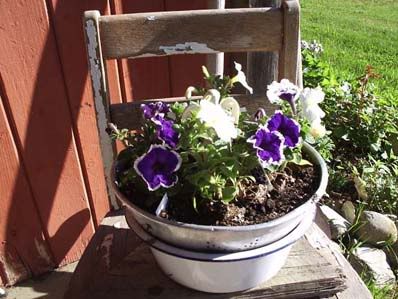 Once you get started, you'll see lots of potential planters all around. Just about anything that will hold soil and accomodate drainage holes will work. I'd love to see what you're doing. If you'd like to email some pictures (see my profile for email address), they just might wind up featured in a future blog entry. Happy creating!
Until next time,