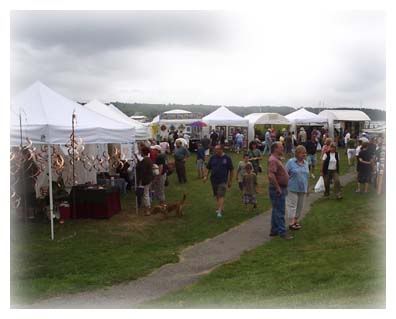 Arts in the Park at Heritage Park, Belfast, Maine
One of our next stops was
Blue Moon Clay Carvers
.
| | |
| --- | --- |
| | Roger & Sue Bisaillon have been creating this colorful and unique pottery since 1982. I loved all of the unique shapes and bright Bohemian colors. |
Blue Moon Pottery will definitely put a smile on your face!
| | |
| --- | --- |
| It was definitely one of my favorite stops. Moving on along, we came to Judith Schuppien's booth, where she was generously offering free postcards of her gorgeous work! Ms. Schuppien works primarily in oils and pastel. She has won numerous awards for her work, including, -"Best of Show" in the 2010 Maine Open Juried Art Show | |
| | |
| --- | --- |
| | Decoupage is one of my favorite artistic expressions, so Sally Kent's booth was a |
delight! She considers her decoupage an extension of the television edit work that she did Hollywood, only now the images that she manipulates are accented and enhanced with paint and gilding. Much of her art is showcased on glass plates. Her subject matter spans a wide range, however much of her work has a very lovely feminine quality that I find very appealing.
| | |
| --- | --- |
| Unique Sea-Glass was one of our last stops, and one of the most popular booths; and for good reason! They offered | |
a huge variety of beautiful and affordable objects fashioned with or from sea glass. I especially liked the mirror frames and wind chimes.
| | |
| --- | --- |
| | Finally, we decided it was time to eat. We picked out a picturesque spot near the water, and I devoured my Old English fish and chips. We thought ice cream sounded good too, but since the sky was quickly clouding up, we left the park and headed to Dairy Queen. After a banana split for me and a hot fudge sundae for Pat, we were pleasantly surprised to bump into another friend, Roberta! Since all three of us are |
incorrigible junkers, we headed off to Goodwill to see what bargains might await. It was the perfect wrap for a delightful outing!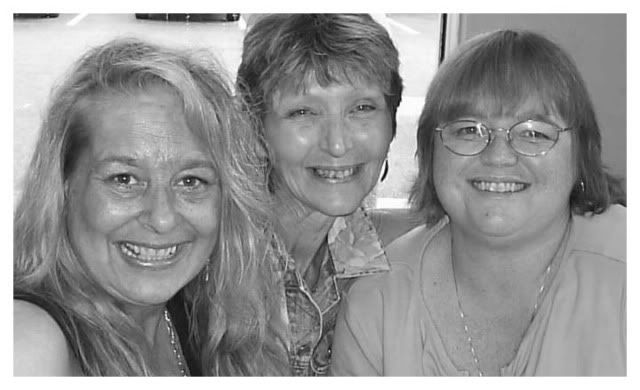 "The Girls" - Me, Pat, Roberta
Until next time,