| | |
| --- | --- |
| Hello Everyone, It's been a long time since I've posted here, and I'm missing all my friends in blogland, | Photo from the Grand Opening of by booth at the Haggle Shop |
so I wanted to shoot off a quick post to let you know of my newest ventures. As you know, my posting sort of abruptly dropped off as I made plans to move back to my old hometown in Tennessee.
Another photo of my Haggle Shop Booth
I posted a couple of times after the move, but just never got back in the groove again. It's been close to a year now and due to a number of false starts, by house still isn't together and my decor projects are on hold.....hopefully one day soon....
Food Table at my Grand Opening
I did want to say, "hello," however, and update you on the things I have been doing. Shortly after I arrived here, I opened a booth at an antique mall here in Kingsport, TN, called the Haggle Shop. It's located downtown on Broad Street, and a place you should definitely visit should you find yourself in northeast Tennessee. Unfortunately, the timing wasn't right, so the booth had a short lifespan. I closed it a couple of months ago, but it was fun while it lasted.
In June, I took a wonderful trip to Las Vegas to visit a very dear and special friend that I'd lost touch with for nearly 30 years and through the wonders of the Internet, reconnected with.

The visit and reunion were wonderful. My friend has a beautiful home, and his desert garden is spectacular!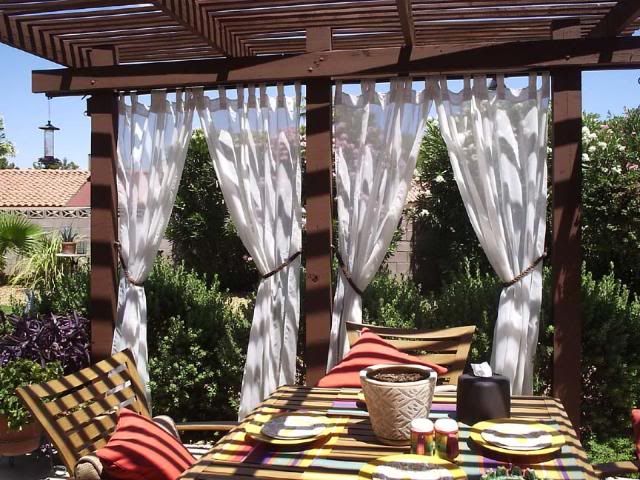 Days were mostly spent here and there, but we enjoyed cocktails on the patio most evenings. My friend employed as the personal chef to a retired Las Vegas casino owner. I was forturnate to be invited to his home and had the pleasure of swimming in his unbelieveably gorgeous pool.
The pool looked like it could have been part of a movie set!
I'll try to do a post showing my friend's garden and his boss's estate grounds. It was like a different world! But back in this world, since my decor plans are in limbo I've been concentrating on fashion!
| | |
| --- | --- |
| In addition to my day job, I've launched a new venture as a personal stylist and shopper. | |
I can do Style Analysis and Style Plans online, in addition to the local
services
that I offer. I've also started a new blog. You can see a sample Style Plan
there
!
I plan to do some special holiday posts for Halloween, Thanksgiving, Christmas, and New Year's. Please send me your favorite holiday decor tips, Halloween costumes, recipes, and anything else that makes the holidays prettier and more enjoyable for you. I'll be using a lot of the ideas on my new blog and will be creating a "featured in" button for the submissions that are published. Can't wait to see what everyone is doing! Until next time...
I'm linking up with Cindy's great blog party, show and tell Friday today! Hope you'll join me in checking out some fabulous creativity!