Well, the Style de Boheme store will be coming, but not as soon as I'd planned. I've decided to do some things around home before I launch the store. In fact, I think I may wait until fall to launch, as my very dear friend, Barbara will be coming to visit and I want to keep my time free. I also want to have the house looking spiffy when she gets here!
I've been putting ideas together for my decorating schemes, and came across a magazine that I LOVE! Flea Market Style is probably the best magazine I've come across in some time. I saw a mood board on page 40 of the current publication, and that was enough to get me moving. While I've seen a number of beautiful mood or inspiration boards, this is the first one I've seen in black and white. It is truly stunning! So...it was off to the Goodwill Store to buy a bulletin board that I could transform. This is my version. I painted the entire bulletin board white, and then to add a bit of dimension, I rubbed some gold paint into the recesses. Then the fun began! I displayed some of my favorite magazine clippings, a few old photos, some vintage lace, and a cherub head on the board. I think my favorite addition to the mood board was some jeweled push pins that I made.
I'd recently picked up a bargain desk and my favorite junque store, and the mood board was the perfect accessory to top it. This is where I'm planning to do most of my painting and paper projects. I can just look up for some great inspiration! As you can see, I've used various pieces of glassware and pottery in white and gold to hold many of my art supplies.
>

You can see in the photo below, that I've also found the perfect place for my decoupaged chair. It's another of my flea market redo's. I've covered it with vintage sheet music, old French love letters, and wallpaper scraps from the 1930's and 40's; with a few photos and magazine clippings added for good measure.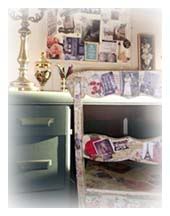 I have so many projects in my head right now I can hardly wait to move. But for now, it's time for bed....
Until next time,