| | |
| --- | --- |
| | Yesterday I had a fabulous little outing with my friend, Pat, at the Arts in the Park festival in downtown Belfast, Maine. Dozens of talented artists and artisans were represented in the show, featuring myriads of artistic creations. There were also muscians to keep things lively, and of course food. I love fair food, and I'll have to say that in spite of a lengthy wait, the English style fish and chips I decided upon were extra delicious! |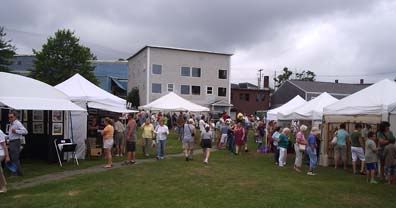 Panorama of the Arts in the Park Festival
But....food was actually the last stop, so back to the art. Our first stop was at Dianne Horton's lovely booth, where she was giving away beautiful bookmarks made from pieces of her art.


Dianne works in watercolor and pen & ink. She was awarded the "Best of the Best" award in the artist category for 2009 in the Republican Journal's reader poll. Her studio is located in Swanville, Maine.


The next stop was
Ducktrap Photography
. Ducktrap Photography presented some amazing black and white images of landscapes and nature shots from around the world. I thought one of the most interesting aspects of this artist was the many different ways that the photography is presented.
| | |
| --- | --- |
| | These photos show some of the images which were transferred to sea shells. Other images appeared on cast glass and jewelry, as well as the more |
expected art prints. The photos, whether on paper, shell, or glass, possess a mystical quality. You really should visit the
web site
for a most enjoyable tour!
To be continued...
Until next time,