This week work has been crazy and I've found myself dreaming instead of doing, so I thought I'd share some photos from my "inspiration file". I can't remember where I found the one on the left, but I just love that gilded sofa. Another one for my wish list!
More and more these days I seem to be drawn toward an elegant simplicity.
I still love vintage, and a juxtaposition of rustic and refined elements, but these days, I seem to be craving a much quieter mix.
I think this living room has such a peaceful quality about it. While predominantly modern, there are vintage elements present in the mantle and mirror. The dog statues were flea market finds. The long, billowy curtains add an air of softness and romance.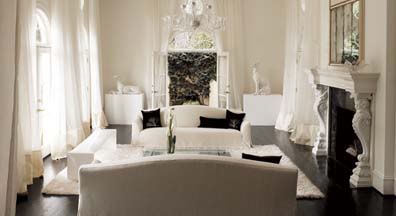 Photo: Metropolitan Home
Of course, I still love "stuff", and I find the photo below very appealing. I love the wrought iron daybed. Perhaps one day I'll find one in my price range.
Of course it just doesn't get much better than this!
I love all the classical elements in this photo, and especially like how the mirrors were layered. I believe I could do without the enamel ware pot in front of the fireplace, though. A chippy, rusty, old urn, in my opinion would be so much nicer.
Here's a new addition to my inspiration files. This living room is on the cover of the current Elle Decor magazine. I'm in love with the mural by Bob Christian.
This is another shot from the same New York apartment. The floors here were also painted by Bob Christian.
Another of my current cravings is the pairing of aqua or turquoise with white, and black accents.
And now for a few items on my wish list. I absolutely love this ruffled shower curtain! I wish I'd saved the source info, but I didn't. (My apologies if this happens to be yours).
I did find a similar one, however, at Anthropologie. If I had the budget, I could really get addicted to that store!
And finally, last by not least, I want this piece of art! The photographic artist is Jennifer Molley Wilson. You may recognize her work from another White Wednesday post from a couple of weeks ago.
Well, folks, I guess that's it for me today. Time to stop drooling and start doing. Thanks for visiting! I hope you've enjoyed browsing some of the images in my inspiration file with me.
Until next time,
Sheilla