I sometimes dream of having a frothy white bedroom.
Something like the one below...
I did once upon a time ago...
But it's just not feasible right now. You see, the bedroom in my little pizza restaurant turned rental cottage is quite tiny. And to compound matters even more, there are no closets in it. In fact there are no closets in the entire house! To up the difficulty factor in decorating the bedroom, there are additional constraints in place. I need to crate Reese when I'm away and the only logical place for his crate is my tiny bedroom. Additionally, my precious Lucy and Reese sleep with me each night and while they're the best bunk mates one could desire, they are very hard on bedding. So for quite a while, I settled on a strictly utilitarian space and focused my efforts on the rest of the house.
But then I came across this spread in Domino magazine.
It started wheels to turning...
If I can't have a fluffy shabby chic bedroom, then why not try a 'sleeping closet'? While I love the idea of a loft bed, it wouldn't work for me because of the dogs, but there was still something in this article that put the wheels in motion.
This is what I came up with...
Since I'm continually replacing bedding, I shop yard sales and thrift stores for pretty florals that can be mixed and matched.
I sort of like the way it looks....

Reese's crate is situated at the foot of the bed.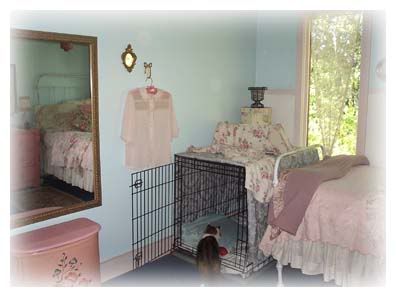 Prissy the cat checking out Reese's crate
To make it look a little less utilitarian, I draped a sofa throw across it.
The top serves as useful storage for my sleepwear.
One problem solved...
Now on to the next one...
Windows!
I love the large window next to my bed...

I love the light...and the view...
And I love being able to look up into starry skies at night...
But it just doesn't lend itself well to conventional window treatments.
My curtains were continually becoming damaged or knocked down, so I opted to knot them up and tie them back secured with a cup hook.
For some added interest I strung some picture wire across the top of the sash and cliped on some artsy postcards for a valance. To add just a little more drama, I hung some Chinese lantens from the ceiling. The little battery operated lights come in quite handy during a power outtage!

Ok, you're probably thinking by now...
"So you have a bedroom with a dog crate in it...
Where does the sleeping closet idea kick in?"
Left without many other options, I've been using my clothing and accessories as part of the room decor. I love vintage bed jackets, and having this one so close at hand reminds me to actually use it when the mornings are a little chilly.
While I know it would be prettier if all my clothing were in soft pastels like the bed jacket, I've got to work with what I actually do wear. Here is my "closet".
As you can see, much of my clothing is hung on a rod that was already in place as a "closet" when I moved in. I added another freestanding rack for additional hanging space. Shelves above the rods store purses and accessories. Shelving and cubbies below house my shoes.
I keep all of my denim on the free-standing rack.
Some of my favorite (but not often worn) shoes and handbags "decorate" the shelf above the denim.
I hung a towel rod to "display" my scarves.
My boots are on and also under a bench placed below.
Jewelry storage acutally turned out to be a fun challenge.
I decided to keep most of my jewelry out in the open where I could see it and enjoy it...not to mention, be reminded to wear it!
The jewelry display was made from an old cork bulletin board cut to fit a frame that I had. I covered it with fabric and then used various items to secure my "jewels". The star-shaped wire basket makes an ideal earring holder. Necklaces and bracelets are hung from push pins. Brooches just push right into the cork board. Additional jewelry is kept in the trinket boxes on the dresser/night stand.
So, there you have it.
My solution to the too small bedroom with no closet dilemma.
Lucy and Reese seem to approve.
And while it probably wouldn't win any design awards, it works for me. Hopefully if you find yourself in a space crunch, some of the ideas here might work for you, too!
Until next time,
Sheilla
This post is shared on "Show and Tell Friday"
at Cindy's gorgeous blog, My Romantic Home. You should check it out....lots of great ideas to discover!