On my way to the post office I passed a sign at the elementary school for a Christmas in August dinner. "What a great idea," I thought, as I drove by. Since Christmas is my favorite holiday and I really can't get enough of it, I thought I'd do my own little Christmas in August celebration here on my blog, and share some photos of last year's holiday décor.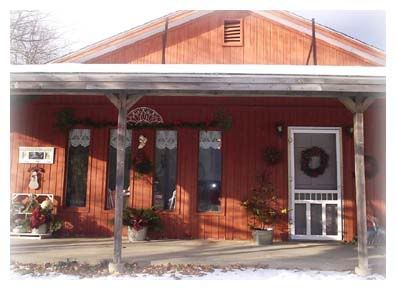 Welcome to my home at Christmas Time!

For Christmas, I dressed up the plant stand in some festive greenery. Last year my fall plantings were still holding up in December, so I incorporated theses into the display along with my white pumpkin from Thanksgiving. I really liked the greenery cut from the woods behind the house tucked into the planters with white Dusty Miller.
&nbsp
| | |
| --- | --- |
| I dressed my cherub girls up in red hats and plaid scarves, to take the chill off, and decked the neary planters in poinsettas and fresh greenery. My favorite outdoor decoration, however, was a Charlie Brown Christmas tree | |
that I dug from the woods myself. You can get a peek at it in the top photo. But enough of outdoors... come on in out of the cold and have a look inside...
| | |
| --- | --- |
| | Because my cottage is small, I like using a four foot tree on a table top in order to save space. This tends to keep the gifts safe from curious pets as well! For my tree and the area around it, I chose pinks, whites and golds as a color scheme. |
| | |
| --- | --- |
| The ornaments are mostly vintage glass with some handmade and "non-ornaments" mixed in for good measure. The pink pears were originally green plastic that I covered with pink glitter. I also repurposed other items such as skeleton keys and small teacups as ornaments. | |
| | |
| --- | --- |
| But what's a tree without lots of presents underneath? One of my favorite activities leading up to Christmas is wrapping gifts. I like to keep them in the same color scheme as my tree. For the gift on the right, I used wedding | |
| | |
| --- | --- |
| | paper in a white lacy print with a bow made from white and gold wired ribbon. The one on the left was wrapped in the same paper and embellished with vintage metallic ribbon and a reindeer ornament. |
In keeping with the color scheme, I also used some solid pink and white giftwrap along with a pink roses print. The package in the foreground on the right was wrapped in wallpaper! You might recognize this chair and the table that the tree is on from my summer porch arrangement. I like to bring it in for the winter and use it in my Christmas décor. I made the "Joy" garland hanging on the chair from letters cut from cardboard and covered in wrapping paper.
The picture above shows the bookcase in the corner of my office near the tree. It houses part of my collection of dog figurines and has been dressed for the holidays with a tiny tree of its own, which is nestled in a teacup.
I hope you've enjoyed the tour of my Christmas house so far, but we're barely through the front door. I hope you'll join me for my next post, and I'll show you the rest of the place.
Until next time,